Brainerd Lakes, Minnesota homes for sale
Brainerd Lakes, Minnesota Real Estate and Community Info.
The state motto for Minnesota is "Land of 10,000 Lakes," and Brainerd, along with its myriad surrounding communities, exemplifies that slogan perfectly. There are nearly 500 lakes in this region, which has earned the very apt moniker of the "Brainerd Lakes Area."
Located near the geographical center of Minnesota, the Brainerd Lakes Area is only 125 miles from the major metropolitan and suburban area of Minneapolis/St. Paul, making it an extremely popular vacation destination and cabin locality. It's also one of the best places in the Midwest to find a lake home.
Shopping and Dining
One of the major benefits of living in a resort community is the wide range of shopping and dining opportunities.
The Brainerd Lakes Area attracts fun seekers from all over the Midwest, primarily for its aquatic activities, and many of them are likely to stay or return for its wealth of eateries. You can find everything here, no matter what your tastes are. Check out the bars and banquet halls, BBQ restaurants, home-cooking and family friendly cafes, and several pizza joints.
Shopping opportunities in the Brainerd Lakes Area cover all the bases. Out-of-the-ordinary gift shops are abundant up and down the streets, as you might expect in a resort community. But there are also major retailers in the area, including one-stop shopping at the Westgate Mall, as well as Walmart and Best Buy.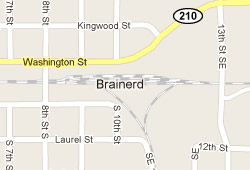 Lakeside Living
Perhaps it's worth mentioning again here that the Brainerd Lakes Area is saturated with lakes, almost 500 of them, and they come in an incredibly wide variety of shapes and sizes. So, if you're in the market for a lake home, or are just rolling the idea around in your head, you have miles and miles of shoreline in the Brainerd Lakes Area from which to choose.
Lakeside living in central Minnesota not only provides you with a spectacular view of the colorful changes that the the seasons bring, but you also can enjoy year-round activities right outside your door.
In the spring, summer and fall, fishing, waterskiing and swimming are at your disposal. During the winter, ice fishing, snowmobiling and ice skating can make these cold months a lot of fun.
Some of the most popular lakes in the area are Gull Lake, the Whitefish Chain of lakes, North Long Lake, Pelican Lake, Bay Lake and Leech Lake.
Schools, Health, Transportation
The Brainerd Lakes Area's public elementary, middle and high school needs are served by Brainerd Public Schools. This district covers not only the city of Brainerd, but also many of the smaller towns surrounding it, such as Baxter, Nisswa and Garrison.
Medical centers in the area include Essentia Health St. Joseph's Medical Center, Cuyuna Regional Medical Center, St. Gabriel's Hospital and Riverwood Health Care Center.
Drivers have a number of state and county highways from which to choose. Some of the other transportation options are the Express Route (bus) Service, DIAL-A-RIDE and the aforementioned Brainerd Lakes Regional Airport.
If you are thinking about buying or selling a home, give us a call at (218) 831-4663 or send us an email to explore your options and to find out when is the best time for you to make a move.