Brainerd, Minnesota homes for sale
Brainerd, Minnesota Real Estate and Community Info.
Brainerd, Minnesota real estate and homes for sale are Located about 125 miles northwest of Minneapolis/St. Paul. Brainerd has a population of 13,590, according to the 2010 U.S. census. Resting comfortably along the banks of the mighty Mississippi River, Brainerd is the county seat of Crow Wing County.
Brainerd area real estate could serve as the poster city for Minnesota's slogan, "Land of 10,000 Lakes." The community calls itself the Brainerd Lakes Area because there are nearly 500 lakes within 30 miles of the city, making it a popular vacation destination.
Because it is situated in cabin country, Brainerd is a small town with big city amenities, such as incredibly diverse restaurants, shopping centers and one-of-a-kind boutiques, and five PGA caliber golf courses.
Shopping and Dining
Brainerd's shopping options are supremely wide ranging and unique. Along with the phenomenal gift shops you expect to find in a resort community, there are major retail stores at the nearby Westgate Mall, and numerous specialty stores, such as antique stores, art galleries, book stores and more.
Residents in and visitors to Brainerd enjoy a charming, historic downtown area in which to check out locally owned shops and restaurants or just spend pleasant hours. Unwind over a cup of coffee in one of the area's quaint and inviting coffee houses.
Other Brainerd dining options include everything from casual, home-cooking cafes to a variety of pizzerias to classy, high-end lakeside restaurants.
Parks and Recreation
With all the water surrounding the Brainerd Lakes Area, it should come as no surprise that fishing, waterskiing, boating and many other aquatic activities are readily available. And when the lakes freeze over the winter, there's plenty of snowmobiling, cross-country and downhill skiing, and ice fishing opportunities for residents and visitors alike.
The City of Brainerd's Parks and Recreation Department manages and maintains 14 city parks and playgrounds, the Brainerd Civic Center and numerous athletic fields. Many of these parks provide year-round athletic facilities, such as lighted ice skating rinks, skateboard parks, and basketball and tennis courts.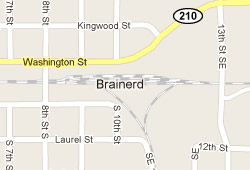 Living
Situated near the geographical center of Minnesota, the Brainerd Lakes Area not only lays claim to nearly 500 lakes, but also to dozens of independent communities, each offering idyllic family friendly neighborhoods.
Brainerd, along with its connected neighboring city of Baxter, is the central hub of the community, playing host to a regional airport, regional and national employers and businesses, and five PGA-caliber golf courses.
When considering Brainerd real estate and homes for sale, life in the Brainerd Lakes Area can include long walks in peaceful, pine-covered forests, a home on or very near a lake, and enjoying a wide array of entertainment, like live theater and art festivals.
Schools, Health, Transportation
Independent School District 181, Brainerd Public Schools, serves about 6,800 Pre-K-12 students in the Brainerd Lakes Area. In addition to the city of Brainerd, the school district covers the communities of Baxter, Pine Center, Nisswa, Merrifield and Garrison, plus every township in the area.
Brainerd Lakes Area residents have a number of health care and medical centers from which to choose, including Essentia Health St. Joseph's Medical Center, Cuyuna Regional Medical Center, St. Gabriel's Hospital and Riverwood Health Care Center.
Along with the several state and county highways that serve the Brainerd Lakes Area, some transportation options include the Express Route (bus) Service, DIAL-A-RIDE and the aforementioned Brainerd Lakes Regional Airport.
If you are thinking about buying or selling a home, give us a call at (218) 831-4663 or send us an email to explore your options and to find out when is the best time for you to make a move.